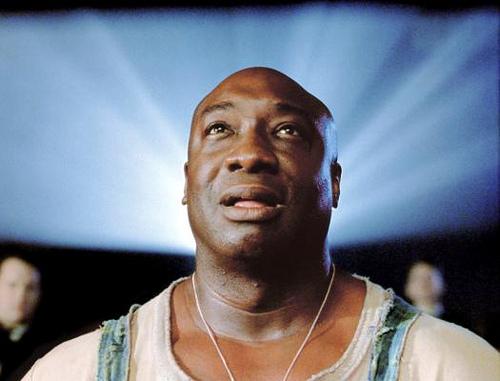 This year is beginning to take its toll.

I mean, the death rate is horrible.

I just saw this morning that Michael ClarkeDuncan has died from complications from a heart attack he suffered back in July.

I personally kind of loved this guy.

Sure, he wasn't the most talented thespian, but he had such a likable personality and he oozed that all over the screen that you were constantly drawn to his presence.

His baritone was commanding and his stature was unsurpassed.

He was a giant teddy bear of an actor who I often confused with Ving Rhames in my youth but grew to differentiate as his own entity as I got older.
At merely 54 years old, Michael Clarke Duncan made a serious name for himself as the gentle giant of cinema, starting with his Oscar nominated turn in 1999's 'The Green Mile'.

I still remember the first time I saw that film and his towering performance within it.

He truly elevates the material, for the film as a whole was somewhat candy-coated and 'soft'.

Duncan's portrayal of the kind hearted convict with Jesus-like powers is not only powerful but truly memorable.

If you haven't seen it, I suggest that you do.
Michael Clarke Duncan will truly be missed.

He wasn't the best actor out there, but he certainly left his stamp on cinema and he was a face and voice and presence that we will all remember.

Every time he appeared in a film, we were happy.

It may have been the smallest of roles, but we remember him and were excited to see him pop up.

I still remember his hallway collapse in 'The Island' and his comedic timing in 'The Whole Nine Yards' was wonderfully on point.

He showed he had range, with the ability tackle drama and comedy with confidence.
So what was your favorite Michael Clarke Duncan performance?