Alright, so next up in the Closer Look series is the 2010 Lead Actress Oscar race.

Yes, this is a recent one!

Now, before I get into tearing a few things apart, I want to say that Oscar really did a great job here.

This is a remarkable commendable lineup, even the performances that I'm not really in love with, and it is probably the strongest collective lineup that Oscar has turned out in quite a long while.

There is range in their selection that is nice to see, and even if I wasn't completely sold on all of the performances considering that pool we had to choose from (I personally only nominate one and only two land in my top twelve) I still can't help but appreciate the talent portrayed on the screen in all five of these performances.
So, here is the actual lineup:
Starting from the bottom of the pack, I'll talk about Jennifer Lawrence for a minute.

I like her, I guess.

I mean, she's turned in at least two performances that I was intrigued by ('The Burning Plain' and 'Like Crazy') and so I know that she has something there; a bit of an allure and some raw talent.

Sadly though, I don't get the apparent 'it girl' status she's adopted and she actually strikes me as somewhat dull and rehearsed in her big turn here.

She has moments of pitch perfect realism (look to the scene I chose for her picture above) but then there are more than a few scenes where the green-state of her ability shows through.

You can see her acting through the film, and so it took you out of the atmospheric vibes created otherwise.
Next we have the Oscar winner, Natalie Portman.

Before everyone goes all crazy and calls me an idiot for having this so low, know that the performance and the film have grown on me.

I don't view it with the same apathetic view I had back upon my initial viewing.

Still, one cannot ignore the glaring obviousness of the whole thing.

Portman is a talented actress.

I've been a supporting of hers for years and have really enjoyed a lot of her work.

A glance over at the Fisti's of the Aughts page and you'll see that I nominate her twice last decade (for 'Cold Mountain' and 'Closer') and truly love those performances.

Still, for about two thirds of 'Black Swan' Portman basically plays Natalie Portman and then she goes crazy.

She sells crazy very well, but she also is rather one note here and so I can't consider it the best in the bunch.
I've stated before that I was not a huge fan of Annette Bening.

I like her, and I find some of her work ('The Grifters' and 'Being Julia' to be exact) to be rather remarkable, but other times I just find her too big for her own good.

In 'The Kids are All Right' she finds a beautiful subtlety that I didn't expect.

I was totally shocked at how grounded this performance was, how real and believable it was.

Look at the rapport she builds with Julianne Moore.

I mean, the sharp quips, the longing eyes, the embittered remarks; they all add up to a relationship that feels ages old and completely lived in.

This is something that Portman didn't do.

Bening builds a backstory without having to actually spell anything out for us.

Still, I actually preferred her co-star, Julianne.

Moore, found more layers of expression and was saddled with a more difficult role to actually get right, and she nailed it.

Still, I was rooting for Bening to win the Oscar, considering that the two best performances in the lineup were SOL in that department.
So, for me it really is all about Michelle Williams and Nicole Kidman.

They have the heaviest roles, emotionally.

Williams is selling us on the deterioration of her marriage and Kidman has to tackle the harsh reality of a woman who has lost her child.

Both performances are so internalized and heartfelt.

When they breakdown, we breakdown because we feel that emotion.

Kidman understands the importance of layering her despair with an aggression and bitterness that makes her feel real.

The loss of a child is heartbreaking, soul-wrecking even and you can see the way she shies away from those around her because they simply cannot understand that pain.

Thankfully, Kidman really understands how to convey it.

Williams takes us a little deeper, maybe because it is slightly easier to convey the pain associated with a relationship than that associated with the death of a child.

Nevertheless, it is Michelle's performance that stays with me longer than any other from Oscar's lineup.

What struck me so much was the intimate nature with which Michelle painted her every scene.

There were times where I actually felt intrusive while watching it, like I was imposing on her actual life.
So, now we get into their careers thus-far.

It's easier this go around since I'm pretty familiar with all of these actresses.
Should I start at the top or the bottom?
Let's talk about Nicole Kidman.

My god, she was something, wasn't she?

I mean, her early career was astonishing, and her string of hits toward the mid-late 90's was exceptional.

I'll never forget her deft comedic timing in 'To Die For', a film that solidified Kidman as one to watch for.

The way she carved such a strong and malicious young woman, keeping an evil eye and yet always keeping up with the comedic tones was exceptional.

She kept up that consistency for years, delivering 'Portrait of a Lady', 'Eyes Wide Shut', 'Moulin Rouge!' and 'The Others' showing immense range of talent along the way.

Then she fell, and continued to fall.

Kidman is one of those rare breeds of actress who handed us so many fantastic performances but never failed to hands us a slew of shittier ones.

I mean, what happened to her and why in the world did she agree to do films like 'The Stepford Wives' and 'Bewitched'.

All her remakes were certainly ill-advised and she definitely paved the way for other actresses like Kate Winslet and Naomi Watts to dethrone her as the queen of quality.

Still, her early work is undeniable, and her work in 'Rabbit Hole' proves that she still has the ability to give us something stunning.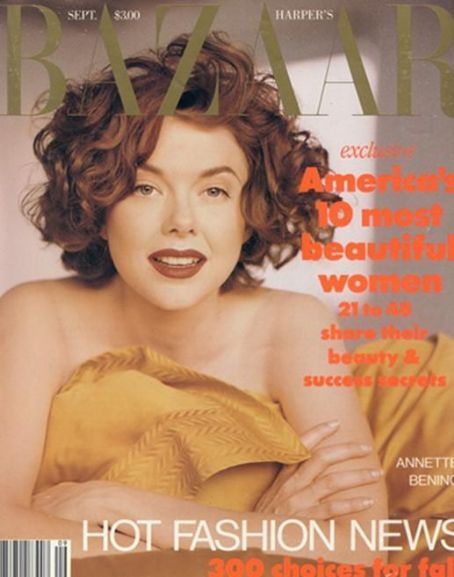 I've said what I have to say about Bening here.

I don't know if I can really add anything to that.
Portman, like I said, is an actress I've supported for a long time.

She has this undeniable spunk and natural awkwardness that I kind of adore, but she also knows how to strip that away and give us something so removed from herself.

Her work in 'Closer' was remarkably deep, full of a quiet fierceness that takes the audience by storm.

She's built a nice career for herself, working with a slew of notable directors (Minghella, Burton, Nichols, Aronofsky, Kar Wai, Malick on the horizon) and she's dipped her toe in mainstream films, romantic comedies, action flicks and Oscar caliber dramas.

She doesn't always hit (her work in 'Star Wars' was embarrassing, and her string of sub-par dramedies in the early aughts were unfortunate) but she has proven she has the chops worthy of her success.
Lawrence is a newbie and so the true extent of her talent is yet to be seen.

I think she sells better her smaller roles, where she doesn't have too much screen time in order to show her glaring flaws as an actress.

Her work in 'Like Crazy' was short and sweet and truly memorable, but like I mentioned, her Oscar nominated work here shows that she has a lot of growing yet to do.

Her work in 'First Class' was bland and while I thought she was good in 'The Beaver', her character was unnecessary and her final speech was horribly sold.

Still, she is helming a huge franchise now and is getting plum roles let and right, so I'm sure she'll make time to prove her worth to me eventually.
And then we have Michelle Williams.

I love this woman.

I really think she is poised to be one of the greatest actresses of all time one of these days.

In fact, what she is doing now is establishing a resume that is reminiscent of early Winslet and Kidman; varied and wholly engaging.

Her Oscar nominated performances are all compelling, and she understands how to expose vulnerability remarkably well.

She uses her features (especially those eyes) to full effect and knows how to layer her nuanced approach in such a way that she never has to dramatize anything, for her eyes and her face do that for us.

That said, with as much as I love her recent work, I haven't seen anything she's done pre-'Brokeback Mountain'.

I can't believe it myself, but looking over her IMDB page I see that eight of her films.

So, with the talent she possesses I firmly believe that in a few years she'll be one of my favorites of all time, but right now I'll just say that she's one of the best working today.
So, I'll clear up this mess:
And, because I just posted ALL of the acting nominees on my 2010 Fisti page, here is my lineup for 2010.